Testimonials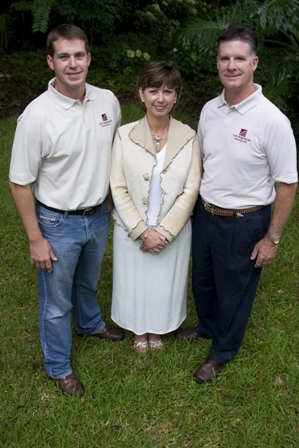 Reviews from Our Clients:
"We contemplated renovating our master bath for years, but never had confidence that contractors we spoke with would develop our general concepts into the space that we wanted. Then we found RE Robinson Remodeling and we are delighted with our renovated space. Randy, Bobbie and their team of professionals were truly a pleasure to work with. They listened carefully and then explained options in detail that were designed to meet our desire for a functional and beautiful master bathroom. Renovation differs from new construction and the RE Robinson team thoroughly understands how to make the process as smooth as possible. They met every challenge with a calm, professional approach to solve each issue. The result is realization of our ideal master bath and very happy homeowners. It is our pleasure to recommend RE Robinson Remodeling."

-With many thanks & warm wishes, Kerry Estes & Hartmut Derendorf
(Click here for pictures from this project)

"Dear Randy and Bobbie, thank you for all you did for us in 2013! Little did we know how our meeting at the Home Show would change our lives. We are really enjoying and benefiting from all the improvements to our home. While going through the process wasn't always easy, it was worth it in the end."
"You were especially kind and thoughtful to follow up after the work was done and think of us."
"Many have complimented the quality of workmanship and we have recommended your company. May you and your family have a Happy New year!"
-Marie and Jim Samec
"They completely turned the kitchen around, they created openings, removed walls, and did a lot of work which we expected to interrupt our day-to-day lives, however, we found the construction passed by quickly and we were back in our kitchen before we knew it. Randy is relentless. Everything goes down in order. He laid it all out, and helped us to prepare for things. Randy and Jay are very meticulous. As remodeling goes, this was a pleasant experience."
"I refer them to people all the time, I am in the insurance business. If people need repair or remodeling, they are at the top of my list."
-Tony McCallister
"The whole process of adding a office suite was marvelous, G.W. Robinson built the home in 2000. That's why I went to Randy, who was the person we worked with when we built the house. Randy and Jay carried though with the same attributes we liked during the original building. They put together a plan with costs, and there were no surprises. What I really liked was they checked on progress every day, and their time-line was totally accurate. They have so much experience that they came to us with great suggestions."
-BarBee Geiger
"G.W. Robinson originally built our home. Randy made the whole process to add an extension for an office and home gym very easy, my wife and I remember signing a contract, and never worrying about anything. We had a newborn baby at the time, and we have five other children. He was very sensitive to that, and made the work environment as safe as possible for my children. I can tell you I am usually very picky, but I would highly recommend him to anyone, and I already have."
-Brian Byrne
"One of the things I really liked about them is that they did everything to minimize problems. Right before Thanksgiving construction guest unit and pool enclosure was not yet finished; Jay came over, and made everything as neat and clean as possible. I felt that they did everything they could during the entire process to minimize the impact on us."
"My house was built in 1990, since they were going to be there working, they had me create a list of little problems we had - replacing weather stripping and a torn screen, patching the sheet rock, fixing a leak - all things that you would often let slide because you don't know how to fix them. That was really nice and detailed, it helped out a lot."
-Linda Young
"One thing that really surprised me was that we had some permitting issues before we could begin construction on the new master suite, they handled all of it. It's been a wonderful experience. It was always easy to get in touch with them. They were flexible with me. It has been good on every front. I most definitely would go back to them. I would not pick anyone else. I've known the family quite a while, and everyone I have spoken to about them say the same thing; they are honest and reliable people. You can't ask for more than that."
-Paul Brown
"After Randy had already done some interior remodeling for us we decided to call him back to add a summer kitchen and an additional room onto our home. We spent two months working on plans but we were not totally happy with the initial plans. Randy asked us to call time-out if we weren't happy with the design, he came to us later with an alternate plan that Jay had created. We said that is exactly what we want, and the work progressed. I know he had already invested time and money, but he was not going to let us build if we were not happy. I really appreciated that."
-Chandra Nataraj
"What your company did for us in our bathroom was beyond what we ever could have imagined. Our bathroom now is the most unique room in our entire house. Bobbie was so helpful with her interior designing expertise and brought some wonderful ideas."
-Hailey and Dallas Hampton
"I just wanted Randy, Bobbie, and Jason to know how pleased I am with the addition. It was such a pleasure working with all the wonderful people that were involved and that have my life a better place to live. Thank you for all you have done for me."
-Debra Bossert
"I recommend GW Robinson Remodeling to anyone! The kitchen is absolutely beautiful. I want to thank everyone that was involved with making my kitchen look so wonderful. Jim and Jimmy did a great job listening to my concerns and making sure they were taken care of. Mike did a wonderful job protecting my home by keeping the construction separate from the rest of the house. Mike even had my furniture back in place when I arrived home the last day of the project, everything was in nice and clean."
-Kathleen Chiocca
"I just got home and wanted to tell you how happy I am with the cabinets. It was a small job, but to me it was a way to make my small home more comfortable and efficient. They look great! More importantly, you did what you said you would do and showed up when you said you would. You did it for the price you said you would, and you did it quickly, and cleanly. Randy, thanks for coordinating this for me. I know you were behind the scenes to make the electrical work timing just right. I admire your organizational skills and willingness to follow up, I am very grateful. With thanks and utmost respect for your construction team."
-Jeanie McCallister
"Randy, just a note to let you know how pleased we are with the repair jobs you and your crew did at our home. We especially appreciate how quickly you responded to our distress call! Thanks again."
-Don Lamont
"Dear Randy and Bobbie, Eleanor and I are very pleased with our new bathroom and bedroom. We thought that your Project Manager, Jim Nester, did an excellent job in managing the various tradesmen to ensure we had a top quality finished product. He also handled the various changes required that became apparent as the job progressed such as relocating the shower drain from the end to the center, raising the wall switches to clear the vanity splash guard just to name a couple. He also scheduled the various craftsmen well to minimize delays and brought them back to fix minor errors or deficiencies. The craftsmen in general were also first class and cooperated with 'touch-ups' to see we received an excellent finished product. We hope we can call upon you again if we decide to do more remodeling in the future. Yours sincerely".
-Eleanor and Dick Curtis

"Thank you so much! You kept the trains running on time and followed up on every little detail. The bath remodel is beautiful and gave us exactly what we wanted. This would not have been possible without you."
"As we told Bobbie, you demonstrated enormous patience and understanding of the customer's point of view at every twist and turn, and we especially appreciated that. All the best to you and yours this Holiday Season!"
-Pam and Alan Wilkening
"I wasn't sure what to look at or what questions to ask, we had some ideas for in-law suites that we showed them, and we wanted it to look like one house, so their architect did some drawings with that roofline. Throughout the process, we were in contact with the site manager daily. If I had any changes or questions, I could always reach him or Bobbie, it was a pleasure working with the Robinsons."
-Sherry and David Meurer
"I appreciated the fact that even though we were living in the middle of the construction, we had clean space. They were very careful to have their areas cleaned up at the end of the day before they left. They did not leave piles of dust, dirt and debris. That was greatly appreciated."
"We appreciate the Robinsons' dedication to our vision; we wanted walnut countertops in our kitchen - a feature we had grown up with but which is not popular in Florida. An outside provider was found who could furnish them, and the Robinsons did more than just incorporate them into the design, they made it happen for us, and they said, 'We've really learned something from you that we truly didn't think could be done,' they work with people, even with something that seems quite unusual to them."
"Every craftsman they bring in, whether it's for electric or plumbing or wood flooring, is just superb with the quality of their work, we just enjoy having them around."
-Don and Jane McGlothlin
"We are both so pleased with not only the finished product but the whole project. Bobbie and Randy and everyone we worked with made the process as painless as possible, and all of the subs were a pleasure to work with. We'd especially like to compliment the Project Manager, Jim, for all of his hard work -- my dad was in construction for years so I understand that Jim's job is kind of like herding cats, but he always kept us in the loop with regard to what to expect and kept all the various parts of the job well-coordinated. We'd also like to give kudos to Butch, he was absolutely meticulous in putting in the flooring and it looks wonderful as a result."
"Various friends and colleagues had recently completed remodeling projects in their homes, and I'd heard all sorts of stories about the length of time, the delays, unexpected costs, etc. that they'd encountered, but our project was nothing like that. Bobbie and Randy gave us such detailed recommendations for all the choices we needed to make that selecting all of the various components became much less daunting, and then they were great about reviewing the budget as we progressed so there were no surprises. Once the actual renovation started, all the work was done in a timely manner, and any concerns were addressed/corrected immediately, so when the last workman left . . . we had a beautiful kitchen that was ready to enjoy. We'll definitely be recommending this company to anyone who needs remodeling work done, and we'll definitely plan on contacting them for any other work we need done in the future!"

"Thanks again for everything -- every day when I walk into that part of the house, I get a big smile on my face because of how they all made our vision a reality!"
-Jim and Chris Flavin
"I purchased a foreclosed condo for my daughters to live in while they attend UF. The place was a complete wreck - plumbing and light fixtures had been ripped out, the bathtubs and tiles were damaged and needed to be replaced and the kitchen cabinets were non-existent. Since I live two hours away, I was concerned that I would not be able to monitor the renovations. Turned out that this was never a problem. Bobbie met with my daughters and assisted them with all their remodeling selections - paint, flooring, light and plumbing fixtures, cabinets, appliances, etc. She regularly kept me informed through phone calls and e-mails. Jim, our project manager, quickly completed the job and we are thrilled with our daughters' new home away from home!"
-Valerie Kelly, Plant City, Florida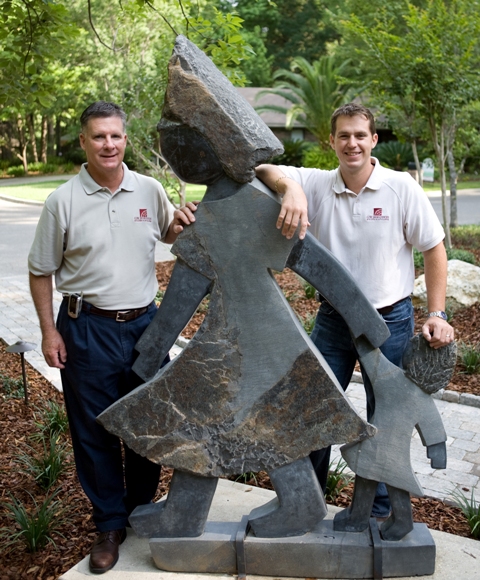 License # CRC027247
R.E. Robinson Remodeling & Custom Builder, LLC. (352) 375-7917